From July 18th to 23rd, a joint team from http://christcentralsf.com/ and http://www.christcentralsc.com/ served with us. This was the fifth time that Christ Central Pres. Church sent a team to work with us in the village and the third time that Pastor In led the team.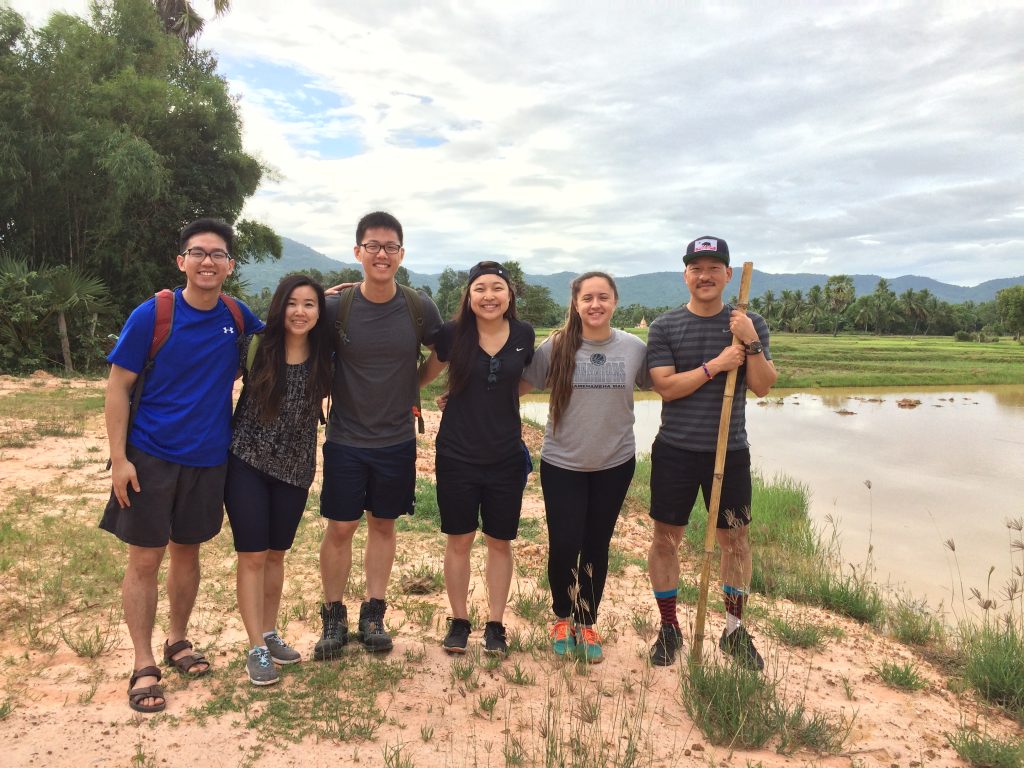 Update 1 and 2 below are two updates written by the team while they were in the village.
Update 1: We just finished day 2 in Angk'jeay village with Pastor Luke and Sokka. The ministry out here consists of reaching out to the village kids through teaching them English (beginner, intermediate, advanced), playing games, teaching guitar lessons, and most importantly teaching them about Jesus through praise, sermon, prayer and the love of Christ through building relationships. The kids are precious and every moment is something very special. An update for the entire team, we are all healthy, in hopeful spirits, exhausted but tremendously blessed. Team unity is increasing but I guess that's what happens when you pack a bunch of people in a car (26 at one point). Check out the picture.
For all the past STM teams, the students remember you and all your stories start to make a little more sense. Can't wait to share more with y'all when we're back.
To the church, thank you so much for the prayers and the continuous support. Lord knows we need them. Please keep them coming.
Ps: Cambodia is hot and humid and there are bugs. But not as bad I expected, so there's that.

Update 2: Today's Sabbath Rest was a little taste of heaven. It seemed fitting to wrap up our final day at Angk'jeay Village with a worship service together with our spiritual family. After a full week of teaching, basketball, music, crafts and tons laughter, we ended with encouragements, prayers, and a tearful farewell. God is truly Big in this Small Village. Never underestimate, that God can be worshipped in the most unexpected places. On another note, this also concludes our joint CCPC & CCSC team as they fly back to the states tomorrow. We celebrated with a final boat ride with the MTW team and old friends from KCC. It was a perfect bookend to a terrific day. We are exhausted but it was a blessed Sabbath Rest! Lastly, pray for us as we take on another week of urban ministry in Phnom Penh. We might have less man-power, but plenty room for the Spirit! Thank you for your prayers!
Bolong's Facebook post thank you: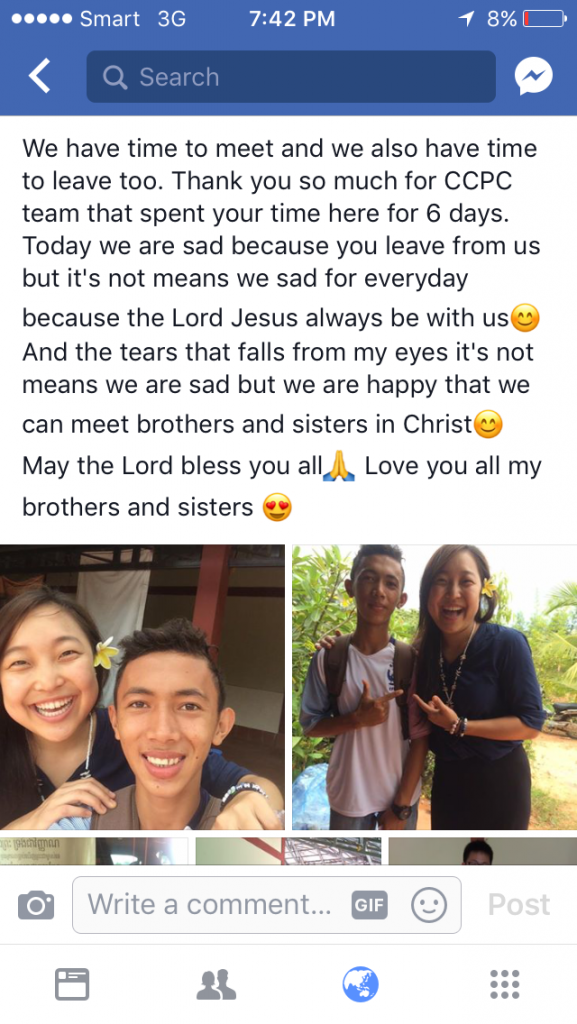 Kunthea's Facebook post thank you: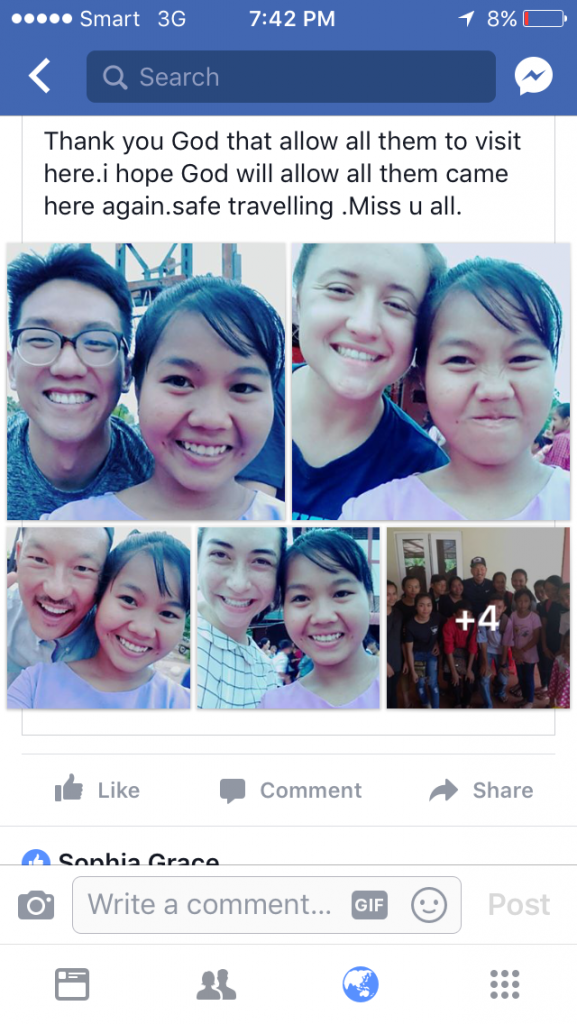 Story from Brennan McCafferty and Becca Nyman's Wedding Website
(their wedding is on May 6th, 2017)
Our Story (from Becca's perspective)
'Teacher Becca, do you have a boyfriend yet?'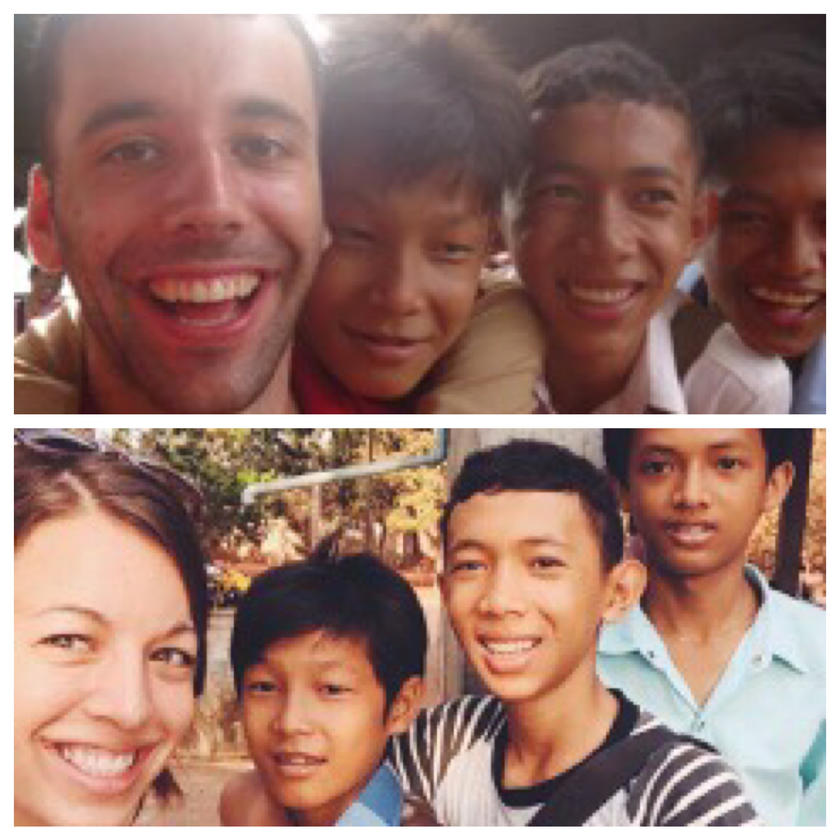 In 2015, I (Becca) spent 6 months in Cambodia, January to June. I left for Cambodia excited to make an impact on the people in Cambodia, and be a blessing to them- little did I know it would be the people and country that made an incredible impact on me. A time of intense growth, learning, and perspective, a greater understanding of God, others, and myself. Little did I know, Cambodia would also weave itself into the story of how I met the man I am blessed to marry. As I was gearing up to leave Cambodia in June, I found out there would be a couple more MTW interns working in the village I worked in (Angkjeay), and living with the same family I lived with (the Smiths). To be more specific, I learned that there was going to be a male intern, who would stay with the Smiths for one month, and serve in Angkjeay village as a pastoral intern, as part of his RPTS Seminary studies. At the time this didn't mean too much to me. However, once September came around I started receiving messages from various people in Cambodia- the family I lived with, friends, students I taught- and each one kept mentioning this guy, Teacher Brennan. Cambodian children messaging me asking, "Teacher Becca, have you found a boyfriend yet? Because I think I found someone for you- Teacher Brennan". Describing him as tall, loves sports, loves God, and loves Cambodia too. I found these messages sweet, amusing, and thoughtful. My friends in Cambodia were still looking out for me even after I had left. Little came of this until late November 2015, when Brennan and I connected on Facebook. This led to many Facebook messages, skype dates, phone calls, and finally a meeting in person. We started dating on January 29, 2016, and on August 13, 2016, I said yes to the man I get to spend the rest of my life with. Our relationship remained long distance until November 2016, when Brennan moved to Minneapolis, MN. God's timing is perfect, and Brennan and I could never have anticipated our paths would cross, but we are both so thankful they did. We are excited to see where God leads us as we seek to glorify Him.