Are you interesting in serving short-term with the us to experience mission work work firsthand? Mission to the World offers a variety of internship opportunities ranging in length, location, and ministry, and one of them happens to be serving right here in Angk'jeay.
Here is a brief description from MTW's website of the work that you would be doing:
Spend your summer living in the small Cambodian village of Angk'jeay (near Phnom Penh), reaching out to children and youth. You'll be working with the English/Bible outreach of the village church plant to teach English to the students there. There are also lots of other opportunities for hands-on involvement: helping with Sunday school, teaching guitar or computer, and sports outreach.
You'll also be personally mentored by one of our full-time missionaries. It's a great chance to learn about cross-cultural ministry and grow in your walk with Christ while serving on a supportive, vibrant team.
If you're interested in learning more, please read about the experiences of previous interns here in the village. Listed below are the names and information about all the interns who have served here; simply click on one of the their names for blogs and updates that they shared about their time here:
Sam Sinquefield – Summer 2014

Sam, the first intern in Angk'jeay, came at the end of his
Sophomore year at Louisiana State University. He was involved in Reformed University Fellowship (RUF) on campus at LSU and studied kinesiology.
Becca Nyman – January through June 2015

Becca was a nurse at the Mayo Clinic in Rochester, MN before spending six months in Cambodia – most of which was spent in Angk'jeay. She was involved in English teaching, medical missions, and much more during her time in Kampot Province.
Whitley Maxwell – Summer 2015

Whitley had just finished her junior year at LSU when she came to Angk'jeay. Whitley was also involved in RUF as she studied for her degree in general business.
Brennan McCafferty – August 2015

Brennan served in Angk'jeay during a two-part internship in Thailand and Cambodia. This internship preceded his last year of seminary pursuing his Master of Divinity degree at Reformed Presbyterian Theological Seminary
.
Caleb Robey – Summer 2016

Caleb had finished his freshman year at the University of Florida before spending a Summer in the village. He was involved in Cru at UF and studied Computer Engineering.
Rachel Sugg – Summer 2017

Rachel was going into her sophomore year at Auburn, majoring in speech pathology. She attended RUF and enjoys reading.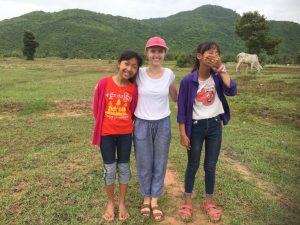 If you are interested in applying, please visit MTW's internship site by clicking here.