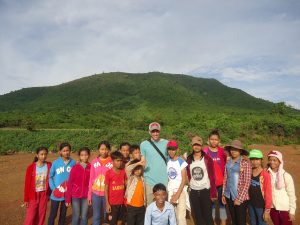 Hi friends,
I'm writing from the country of Cambodia. More specifically, from Ankjeay village in south-central Cambodia. I've been in Cambodia for almost two weeks now, and I've been living in the village for 11 days. I'm happy to report that everything is going very well so far. Living in a village has been a really neat experience. There is a lot that is different, but it has been a great time for me to learn and absorb a different culture. And the missionaries I am working with have been very welcoming and encouraging.
Here in the village, the missionaries I am working with have a fairly extensive ESL program that they do with the village students. Three times a week they teach over 80 Cambodian students the Bible and English in a number of different level classes. I've been able to jump right in and am now teaching the intermediate class and also helping with the advanced class in the evening. A number of these students are also members of the church in the village. I've also been able to lead a Bible study through translation and had the opportunity to preach at the church last Sunday. Right now, there is a short term team from California helping out, so I won't be preaching this Sunday, but I should have a few more opportunities to preach before I leave.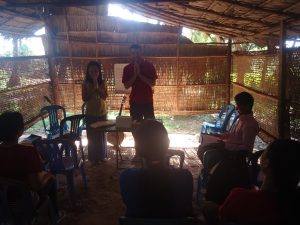 I've had a really good time working with the students, and I've had the opportunity to get to know a few of them well so far – their English is quite good for how young they are.  A group of students and I have also been playing volleyball in the evenings after class, which has been a lot of fun.  Please pray for the relationships that I have been able to build with some of the students so far. Pray that I would set a godly example for them, and that they would remember me for my love for Jesus. It's hard to know that I will be here for only a few more weeks and will then be leaving, so pray that that would not deter me from pouring into their lives. Other than that, you can pray for the overall work that is taking place here in the village. There are a number of students that are not believers, so pray for hearts to be opened to the Gospel message. Buddhism has a very strong hold here in the village, which also means a fair amount of persecution for those Christians living in the village – specifically, when things go bad, the Christians get blamed, because they haven't participated in all of the Buddhist rituals. So pray for the Christians here, that they would stand firm in the face of persecution.
Thank you again for all your prayers. They mean a lot.
His Unworthy Servant,
-Brennan