We hope this update finds you content in God's grace and seeking His kingdom. We are grateful for your support and prayers that allow us to continue to teach the word of God in the village. This week is the Cambodian New Year, so we are in Phnom Penh for a few days before returning to the village towards the end of the week. The rains the past couple of weeks have brought some relief from the hot season. Sokha recently wrote a blog post about this year's hot season and the struggle for water: http://lifeincambodia.org/2014/04/11/water-wells-heat-and-dust-the-dry-season-2014 .
In spite of the extreme heat, students in our English outreach classes continue to attend classes faithfully on Mondays, Wednesdays, Fridays and Saturdays. Several students come early to practice playing the guitar and to sing Christian songs from the Khmer Purple Hymnal. There is only one hymnal in Khmer. The first half of the hymnal has songs translated from English into Khmer, and the second half of the hymnal is songs written by Cambodians set to traditional Cambodian tunes. The tunes are quite familiar to most Cambodians and can be heard at any wedding, funeral or festival.
Song number 138 in the hymnal is one of their favorites. The first verse is: "I have been saved by you. There is no other god who can help me.  You are the only one. There is no other god who can free me from my sorrow. Only a gift from heaven. Now I have you as the Lord of my life." There are many edifying hymns that have been written by Cambodians that we would like to share from time to time. Most of them were written at the end of the Pol Pot era when many Cambodians were coming to Christ in refugee camps.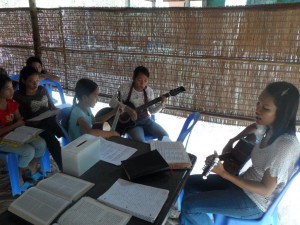 Last July, a group of young church members started learning how to play guitar with the purpose of using it to glorify God. Sokha has taught them on Saturday afternoons as well as a few short term team members last summer, a MTW intern and a friend that visited. By December, some of them could play a simple Khmer Christmas song during the Christmas church service. Presently ten of them can play guitar well enough to help lead in singing in the first half hour of the English outreach classes as well as in the Sunday worship service with Sokha. We are praying and hoping that soon they can serve the Lord confidently with their new talent and can lead singing without Sokha.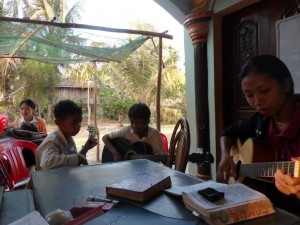 Pisey, Saran, Srey Lin and Navy, the four girls in the discipleship/vocation program have been doing well in their preparation year. Besides, learning English, computer and taking a Bible certificate program from Moore Theological College, they have been passionately involved in helping teach the children in the English outreach class for beginners as well as the Sunday school class. Reaksmey, Sokha's younger sister, travels from Phnom Penh on the weekends to train them as well as a few other church members to teach the Sunday school children. It is our hope that one day these four girls will soon be able to teach the class by themselves.
In addition to our normal work, we try to make time to work on a few translation projects from time to time. Every month, we translate four or five questions and answers from the Westminster Shorter Catechism and use them in the church worship service. We are about 1/3 of the way through the Shorter Catechism now. Also, we just finished editing/revising a Gospel Coalition Booklet titled the "Gospel and Scripture." Next, we will start editing/revising another Gospel Coalition Booklet title "What is the Gospel" by Bryan Chapel.
http://www.dkdl.org/wp-content/uploads/2013/12/The-Gospel-and-Scripture-booklet.pdf
As we feel called to work in this village long term, it is our desire to minister to the students as well as to reach out to the villagers more effectively. Therefore, we need a better place to stay, and larger classrooms. The rats, snakes,centipedes and scorpions that often make their way into our rental house, along with roof leaks and a number of other small problems has made it an exhausting place to stay. One year ago, with the help of some of the students' parents, we managed to buy five connected rice fields along the village dirt road for a reasonable price. Since then, we filled them up with dirt. It is about half a hectare in size with a beautiful landscape in the background. With permission from the government, we have been able to start building a house. The construction of the house is about half way through with the help of the village construction workers. Along with the construction of the house, we are writing a proposal for a pending classroom project in the coming months.
Thanksgiving:
The Lord's providence and protection over our family and His church in the village.
The ten guitar students who have a new talent and using it to serve God.
Prayer Requests:
Our house construction and the pending classroom/training center project.
Pisey, Saran, Srey Lin and Navy, the four girls in the discipleship and vacation program to continue to grow stronger as believers and are becoming blessings to God's church and their families.
Pray for the families of Orm Sorn, Neakming Saron, Pisey and Srey Sros who are open to the gospel and have shown their interest by attending the worship service once in a while.
Pray for the ten guitar students, Darlin, Srey Nich, Buntong, Sophea, Veasna, Bolong, Pisey, Chanara, Kunthea and Konika, to love and serve the Lord joyfully and passionately with their new talent.
Pray for Sam, an intern with MTW, who is going to be with us in the village for two months: June and July. He will be helping teach guitar and focusing on teaching the translated hymns from English into Khmer.
Workers: The harvest truly is plenteous, but the laborers are few; Pray that the Lord of the harvest will send forth more laborers into his harvest.
Your partners in the gospel,
Luke, Sokha, and Hannah