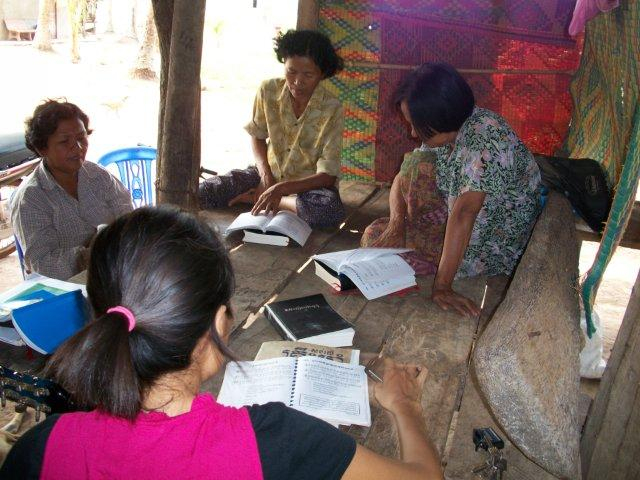 About seven weeks ago, my wife and I had our quiet Monday evening interrupted by the sound of shrill wailing coming from our next door neighbor's house. As we moved out to our balcony for a better view, we could see and hear that the wailing was coming from the children next door who had just received the unexpected news of the death of their father. He had died unexpectedly in a motorcycle accident on dirt road nearby, leaving behind six children and his wife.
So it is, isn't it? Death is so often an unexpected and unwanted visitor when it pays its visit. It comes at the most inconvenient times, making five and six year old children burying their father. It comes uninvited, and it is no respecter of persons. It visits the rich and poor, the old and young, people of every nationality, and will eventually visit every one of us. There is only one hope in the face of death. There is only one hope that the final enemy will not get the last word. The hope of the resurrection is the only true hope that we have in face of death. A hope that Jesus is the resurrection and the life is a hope that we long for the villagers here to have.
Yeay Chrong groaned, "Since my grandson is dead, is there any possibility for him to go to heaven?" She was referring to the dead man who was actually one of her three grandchildren. Although, he as well as the rest of his siblings never took care of her and stole everything that belonged to her including her pee bucket! We were amazed at how much love she had for him. We shook our heads and assured her, "It is too late. Your grandson can't believe in Jesus and repent now, can he? But you are different. You still have a chance to be saved and go to heaven if you know who the owner of heaven is, believe in Jesus, the Son of the owner of heaven who can wash away your sin, and repent." We could see the sadness on her face. This was not the first time that we shared the good news with her, but she has not seemed to grasp it. She seems to be tied to the things of this world. Her life sinfulness is revealed in the responses of her neighbors. Nobody likes her. She has a long history of being a chronic liar in the village, but since she is old, she hardly remembers to cover her lies. As a result, she is usually deserted and left to starve in her small hut. With God's love we share our food with her daily, and wash her and change her clothes once a week. Please continue to pray for her and us as we minister to her.
We have been living in Angkjeay village in Kampot province for over 8 months now. The majority of our time is spent with the village church plant and related English outreach classes. On Mondays, Wednesdays and Fridays, we continue to reach out to children and teenagers through teaching them English. We have divided the children into three classes. The first class between 12 to 1 pm is a class for students who have just started to learn English. There are 20 students in this class. The second class between is 1.15 to 2 pm for young children between the age of 3 to 8 with about 30 students in the class. The third class between 5:30 to 6:30 pm is a class for advanced learners. There are 30 students in this class. Most of them are either in secondary school or in high school.
We usually begin our English classes by reinforcing the Bible lessons that they learn in Sunday school class through singing, reciting memory verses, and reading chronologically through a simple version of the Khmer Children's Bible published by Lutheran Heritage Foundation called A Child's Garden of Bible Stories with the students in the first class. On Friday afternoons, we hold an hour Bible study with the advanced learners. We sing and read chronologically through another version of Khmer Children's Bible printed by The Bible Society in Cambodia called The Bible for Children with them, and then Luke gives a short sermon on the passage and writes down a memory verse for them to translate from English to Khmer. The two older classes have been memorizing the Children's Catechism in Khmer, and we have been going through it after reinforcing the Bible lessons. Those who can remember and recite the answers are rewarded with candy, toys, or school stationary donated by MTW colleagues, friends, and visiting churches.
Since the end of December, we've found a location for Sunday worship that is between missionary Esther's village and our village. Now, the church plant meets at a villager's house closer to where we live. We have been setting up chairs under the coconut and mango trees for now. But the area floods during the rainy season, so we will probably have to find a house to meet under, or build a simple shelter on another villager's ground in a few months. Three Bible school students in their third year of study from Esther's village have been sharing the preaching duties with Luke. Sokha continues to assist with the music and translation when needed. Orm Sorn, an older man, Ming Saron, an older woman, Oun Navy, a high school student and her friend Srey Em, and eight other girls that live by the village market have been faithfully riding their bicylcles about 20 to 30 minutes to worship with us on Sundays. The two older adults, Om Sorn and Ming Saron, are in need of your prayers. Om Sorn used to work for a Christian NGO, but had a stroke and has numbness in both legs now. His blood pressure is often unstable. He often gets dizzy, weak and sometimes is not able to attend the Sunday worship service or the Baptism class held at our place twice a month on Saturday afternoons. As for Ming Saron, she has been severely persecuted by her husband for believing in Jesus that she's sometimes unable to attend the worship service and the Baptism class.
Oun Navy, a high school student, has been riding her bicycle about forty-five minutes to attend the Baptism Class and Sunday school teachers' training class at our place on Saturday afternoons as well as to assist the Sunday school teachers on Sunday mornings. She is a very committed student. She lives with her poor mother. Her father committed suicide several years ago. She is already in 11th grade and hoping to get a scholarship to study in college once she's graduated from high school.
Two of Sokha's sisters from the city have been traveling on the weekends to help her train seven girls who have already received Christ to become Sunday school assistant teachers in future. One of the attendants is Oun Navy. At the moment, this Sunday school teachers' training class is held on Saturday afternoons between 2:00 to 3:30 pm or 3:30 to 5:00pm. We've also been running Sunday school class on Sunday mornings between 7:00 to 8:30 am. Since this class has moved from our place to the new church plant location, there are about 40 children attending that we know mainly from the English classes, and the surrounding neighborhood. More students from the two other English classes ride their bicycles to attend the worship service.
Other than the Baptism class which is held twice a month on Saturday afternoons, we have started a new Bible study in a villager's house across from where the church plant is located on Tuesday afternoons. There are three elderly women, an old grandfather, and two young women attending this class. Since they're new and seeking to know more about this new faith, we studying lessons which give a redemptive historical overview of the Bible. Most of the people in the Bible study have also been attending the main worship service on Sundays. Please pray that by the grace of God, they would understand who God is and believe in Him.
One a personal note, Sokha is pregnant with our first child! The due date is mid-August.
Thanks for you prayers,
Luke and Sokha
With our recent marriage and a few supporters needing to reduce support or stop support over the past few months, we are in need of additional monthly support. If you are interested in supporting us or know a church or friend that may be interested in supporting us, please let us know. Here is the giving information: Donation website: www.mtw.org/donations. To donate by check write "Luke Smith- 17118" in the memo line, and send it to: MTW, P.O. Box 116284, Atlanta, GA, 30368-6284.