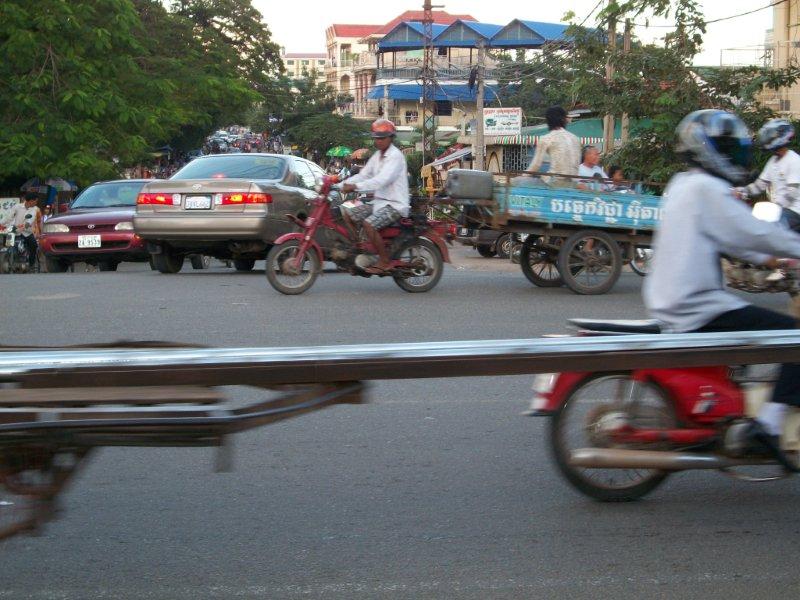 A few months ago, my roommate made a traffic video to give a taste of how the streets are here in Phnom Penh. In someways, I have become more accustomed to the traffic patterns here. But having seen a couple of semi-trailer and moto collisions over the past few weeks, I have been reminded again of the danger of driving here. Some say that there is a pattern to the chaos, and I agree somewhat. However, semi-trailers and motos just don't mix well on the same road no matter what the pattern may be.
I was recently reading an article entitled "Driving Tips for Cambodian Streets" by James Cottle (World Team), and was amazed by how accurate his description of driving here is. Below are his thoughts on the difference in the mind-set of Western drivers versus the mind-set of Cambodian drivers:
Westerners say, "A road is a place of order where people follow and lead in an effort to get to where they want to go." In Cambodia the attitude follows a thought more like, "The road is an area (dirt, paved or grassy area) that I can use however I see fit in order to be first in getting to where I want to go.
Westerners say, "This is my side of the road, that is your side." In Cambodia the lanes are places to be used no matter if there is a yellow divider line or not. Motos will frequently drive along the side of the road going the wrong way looking for an opening to cross to the correct side.
Westerners say, "I have my highway rights." In Cambodia you have the right to move over as three vehicles come your way "in your lane." Hanging on to your highway rights just to defy the new culture of Cambodia is a sure way to get into an accident because the other quickly-approaching car is thinking you are going to get out of his way.
Westerners say, "Just obey the signs, signal lights, and speed limits." In Cambodia most of this traffic paraphernalia is suggestive only. You will not want to depend on others to place the same value on these things as you do.
Westerners say, "This doesn't make any sense at all." In Cambodia many of the driving methods are ludicrous but some of them make perfect sense once you begin to understand the system. Unfortunately it will take time (maybe a few years) before you really begin to comprehend the reason behind the madness.
Westerners say, "Thanks for letting me pull out in front of you; I'll hurry and get out of your way." In Cambodia take your time even when someone has shown a kind gesture, don't worry about holding them up. They understand the cost of quickly crossing lanes.
Previous posts in this series:
Things Along the Road… Money Changers
Things Along the Road… Fried Crickets